Earlier this month we discussed our best options for
footwear after the Apocalypse
. However, if, like me, you are banking on being included on the spaceship with
Stephen Hawking
,
Brian Greene
, and my favorite,
Michio Kaku
(he's so enthusiastically happy about science it'd be impossible to be in a bad mood trapped on a spaceship with him), then you'll need to start packing.
Now, I know you're thinking, Katie, you make wedding invitations, Hawking is one of the foremost authorities on theoretical physics, Greene is known for his enormous contributions to string theory, and, speaking of string theory, Kaku co-founded string-field theory, and you Katie, bless your little heart, you design wedding invitations.
Well, yes, you have a point. But really, what are all these scientists going to do, just sit around and discuss their Mensa membership. They'll need someone to provide the comic relief. Like
Pinky had the Brain
, like
Sherrif Andy had Deputy Fife
, like
Ren had Stimpy
, like
Zach Morris had Samuel "Screech" Powers
.
I'm totally Screech!
Now, just because I'll be in outer space is NO excuse to not rock awesome, out-of-this-world footwear.
I know that the obvious choice is the flat pack
Moon Shoe
that
United Nude
designed for Spanish performance artist Alicia Frami's "Moon Life" project.
Some assembly required. I hope they include an Allen Wrench.
But, considering this shoe is really an art installation there will be the issue of coming by it honestly.
So I've decided to try for something available for purchase and probably a bit more comfortable.
My first choice is this white wedge boot from
Finsk
.
These look suitably space aged and as though they'd keep my
tootsies
warm during the ascent.
Another absolutely fantastic option is the Chelsea boot from
Alejandro Ingelmo
.
They would look so awesome with a silver Lycra space jumpsuit tucked into them. I'd accessorize with a kickass belt.
For cold space walks when they send me out into space to fix the ship's hull with bobby pins and double sided fashion tape (always prepared), Opening Ceremony's Quilted Boot is perfect.
I wouldn't have to worry about the coldness of space as each foot would be snugly wrapped in its own individual quilt.
I don't know if life exists on another planet, but I always feel as though I should be prepared for a party. That's where
Walter Steiger
comes into play.
These curved heel pumps are suitably sexy and still a bit futuristic and space age.
Finally, every woman in space or on terra firma needs a pair of comfortable flats. These
Melissa
x Zaha Hadid flats are perfect for the job.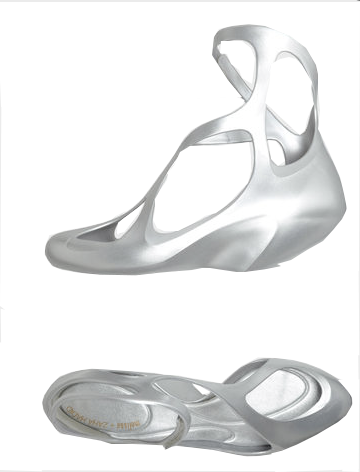 I can't help but think that if
Flash Gordon
were a woman he'd totally wear these shoes.
So, will you be joining me on the spaceship and if so, what will you be packing in your shoe bag?