You've heard the story about the
Elves and the Shoemaker
? There is a lesser known fairy tale about a poor
cordwainer
and his pet ferrets. It's lesser known because I just made it up, but that's neither here nor there.
Once upon a time a cordwainer had a lovely little shop, but the shoes he made were so elegant that it took him a very long time to finish each shoe commissioned by his clients. He worked his knuckles to the bone and never made it home before midnight. He missed his family but he knew that they depended on the money he made in order to keep food on the table and a roof over their heads.
Now in the cordwainer's shop, he had two pet ferrets to keep him from being lonely while he meticulously crafted his much coveted shoes. Every morning the cordwainer would come into the store, still exhausted from the previous day's work, scratch the ferrets ears and tell them what lovely darlings they were for keeping the old shoemaker company during his long, laborious and lonely days. Every evening the ferrets watched as the cordwainer suffered for his art until the point of exhaustion before going home. His dedication to his art so moved the ferrets that the sweet stoats decided one evening after the cordwainer had left they would help finish the leather buckle boots that the shoemaker was working on for one of his wealthy clients.
Unfortunately ferrets are not known for the dexterity of their paws and the little guys managed to sew themselves into the shoes.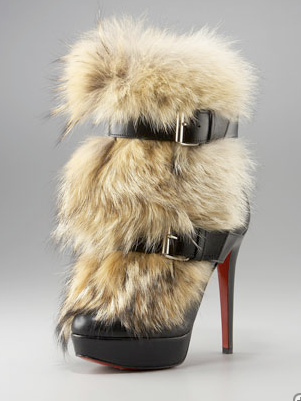 Christian Louboutin Toundra Fur Boot
The client for whom the boots were commissioned came early in the morning and picked up the shoes from the cordwainer's young apprentice who was unaware that the ferrets had managed to sew themselves into the shoe. The cordwainer always wondered what happened to his little friends. He assumed that the smarter than average ferrets managed to find their way out of the shoe shop via a crack in one of the windows.
As for the cordwainer's fate, a fair princess saw the woman wearing the ferret boots and was so amazed that she hired the shoemaker as her private cobbler. His family moved to the kingdom and as he was completely provided for by one client he was able to not only keep his family fed and happy, he was able to see them more often.
The end.