In 1962 during the Cuban Missile Crisis Americans began stockpiling goods in the event of a nuclear war.
Every August, two weekends before the start of September, I begin stockpiling as well. Why? I live in a college town. This weekend every grocery store, each big box store, all office supply stores will be overrun with out of towners who are stressed, exhausted, and saying a long goodbye to their babies for the first time. You do NOT want to be at Target picking up nail polish remover this weekend.
Driving through my town during move in weekend is like driving in India any day of the year.
I swear, these incoming freshman kamikaze across the parking lot, parents are arguing in the car about where to turn and are completely unable to look before merging because their car is completely stocked with all of junior's crap. And despite having enough shit in their car to sustain a small country, they will still find a reason to run to Target, the grocery store, the mall and every area restaurant I so love.
I plan on spending this weekend hiding under my quilt, mumbling angrily, and behaving pretty much like every other townie out there.
I'm in the unique position of living in an uber-college town. While my own city only has two universities (and a community college) I am wedged between two cities with state universities and several smaller colleges. The Target a quarter mile from my home is the "good" Target (which is utter bull fecal matter, it's just in a prettier part of town). Every parent that manages to miss the turn into Target will turn around in my lazy little neighborhood and not watch for regular traffic coming into or leaving my little street.
But, other than the nightmare that is move in weekend the local colleges and universities are good for my town. So, today, I honor the big four that will all but shut down the shopping plaza down the road.
First up is
Duke University
. The Duke gardens is one of my favorite places in town. I like to take the dogs there, read a book, have a picnic, take pictures and enjoy the flowers.
For the Devilish Duke girl I recommend this very sexy pair of
Pucci
Patent Leather Boots.
Next in Durham is
North Carolina Central University
.
Back to shoes though, a pair of
Theyskens' Theory
Patent Leather and Suede Ombre Wedges in maroon is perfect for an Eagle.
Just down the road from me is the
University of North Carolina at Chapel Hill
. UNC students are kamikaze pedestrians beyond move in weekend. Just visit Franklin Street on any game day.
Anyway, I keep trying to convince a coworker of mine who is a UNC alum to get these
Kate Spade
Cam Too pumps for her upcoming wedding. She NEEDS some UNC blue shoes under her wedding gown. There is no question in my mind.
And last it's time to put our wolf-ears up.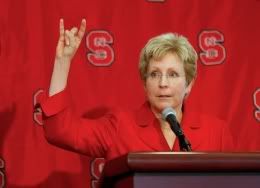 Oh my, don't worry Debbie, you'll figure it out.
Now
North Carolina State University
is the furthest from my house and while they don't tend to descend on my local eateries and stores I do live quite close to a "destination mall." So I'm guaranteed to run into someone from the Wolf Pack while going to the movies or stopping by Paneras.
Nicholas Kirkwood's
ankle boots are ideal for leading the pack.
So, to all the incoming freshman in my area, know that while we townies might grumble and groan on move in weekend, we are very happy to have you here. Enjoy these four years, enjoy all the area has to offer, and we promise, once this weekend is over you will experience that southern hospitality you've been told about. For the love of all that is holy though, STOP trying to decorate the grill of my car with your body.