I
love
a
good
rain
. To be fair, I prefer it in the spring and summer months; in the winter the rain chills me to the bone, makes it hard to get warm even when inside, and doesn't even have the benefit of helping green up my dormant winter lawn. Plus every time I have to let the dogs out I get blasted in the face with a wet, winter, rainy slap.
But, even in the cold, I enjoy breaking out my favorite umbrella (a cheap Hayden Harnett for Target Pagoda Umbrella).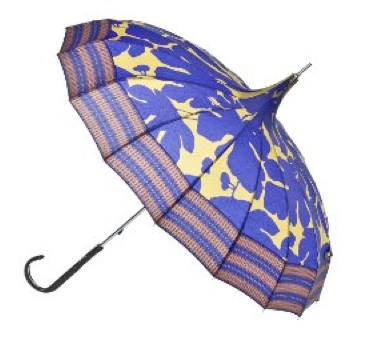 One of the many reasons I love rainy days!
I love the pagoda shape of this umbrella, in a sea of umbrellas the pagoda style still stands out and makes a statement, and with a little bit of google fu you can find plenty of great options.
If I needed a new umbrella I'd be mighty tempted to get this one from
Bella Umbrella
.
Feed 1 Water Bottle
, a hand bag, and a random magazine for my lunch break. I need to consider scaling back. Also, I like being able to hang my umbrella on a coat rack as we don't have an umbrella stand at work.
Next up is the Fulton Pink Daisy Pink Pagoda Umbrella from
Ella Umbrella
.
I'm usually not one for florals, but I love that this one is slightly subtle. If it weren't the dead of winter I'd be reminded that these showers make the flowers grow. Instead, I'm currently reminded that these showers make my back yard a huge Woodstock caliber mud pit for my dogs to enjoy. Thank goodness for hardwood floors. Swiffering is so much easier than rug doctoring.
These next three styles are all from
Viola Umbrella
, an online retailer focusing on fashion umbrellas (and also parasols, but that's a bit too fussy for me).
This umbrella is a great neutral option for someone that doesn't want a colorful accessory. Viola Umbrella does jazz it up a bit with colorway options, for example black and purple instead of black and white.
For the true minimalist, or for the person that just can't bring themselves to carry a bright spring-like umbrella around in January, they carry a simple gray option.
If the pagoda doesn't do anything for you and you're too busy fighting
rebel scum
...
Enjoy
! No go run and find the one that loves you, so this rainy Monday doesn't get you down!