There are days when the mere task of getting out of bed seems insurmountable. These are the days we break out the pants with the comfort waist, that old, oversized sweater that feels like a hug, and flats. We may still smear on a bit of make up to hide the baggage under our eyes, hair goes into a pony tail if it's long enough, or in a headband for those that rock the shorter styles like myself. We wear our glasses instead of fussing with contacts, and frankly, we don't care. This isn't necessarily a style statement, but rather, armor against bad days.
In this past fall season and going straight into resort, designers have capitalized on this idea of comfort, but not comfort for the soul's sake, but for fashion. I must admit, the pajama style of dressing did not, and does not bother me like it bothers so many. In fact, many of the styles I quite like and could see myself wearing (not together though, as separates).
If I were a little bit taller, and if in fact, I were a
baller
, I'd love to wear these Indigo City Grid Ground Print wide leg trousers from
10 Crosby Derek Lam
.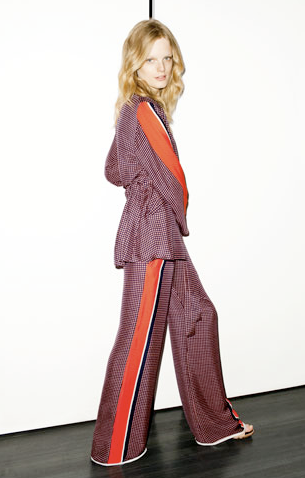 Granted, I wouldn't wear them with the matching Kimono top, but I get this vibe. I love the way the fabric moves, it's easy but still elegant.
But pajama dressing can get a little too literal. I can't imagine rolling up to work wearing clothes that look like they should be slept in, wearing slippers, and styling my hair to have that "slept in" quality. Do you know how much money and work that would take (the pants are $335, way more than my usual slim black pants from the Gap)?
And slippers? Don't get me wrong, I'll wear flats. I love loafers, ballet flats, they're fabulous. I wouldn't wear my
Homer Simpson
slippers to work, and I just can't get on board with the slipper shoes. It's not even that I don't like them!
I love leopard print!
I love studs!
I love... okay, you got me, I love nothing about these ones. Moving along.
What's not to love about a paisley!
But, I'm not
Hugh Hefner
. I don't have the aplomb it requires to leave my house wearing slippers. I remember once, as a kid, my dad managed to go to the corner market wearing his slippers. He simply forgot to change them and was just stopping by to get milk. He said as soon as he noticed he affected a limp, so people would think he had a reason to be in slippers, rather than just being a crazy man that can't dress himself.
So for my dollar, I'd rather buy Jimmy Choo pumps that will last seasons, instead of slippers that may be wearable for 2012 resort, and then relegated to the "what were we thinking" fashion trend pile.