It is day two of my American shoe tribute in honor of the Fourth of July weekend and today I celebrate the oldest continuously running shoe company in America,
The Frye Company
. For 150 years Frye has bench crafted their boots, a process that takes more than 190 steps to complete a pair of boots.

I love Frye Boots. Now, yes, it's true, normally I am a heel girl, in fact I'd say a good six days a week I'm in heels but on that seventh day nothing feels better than pulling on a perfectly worn in pair of
Frye 8R Engineer Boots
.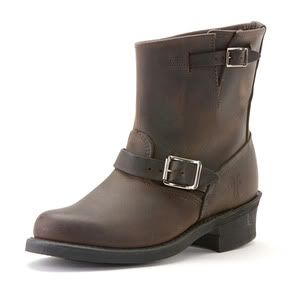 Frye 8R Engineer Boots in Gaucho
They go perfect with a flouncy dress or jeans. Whenever I put them on, I feel ready to get a tattoo and ride across the country on a chopper. Okay, maybe not, but I feel like I fucking could if I wanted to and, dammit, that is a great feeling.
John A. Frye ran the Frye company for 50 years from the very start in 1863 until his death in 1911 after which his family took over the business. Frye boots have a long history, in the 1800s many of the homesteaders wore Fryes as they trekked west.
The
Frye Harness Boot
(then the Jet Boot) was inspired by a meeting John Frye's grandson, also named John, had with a US Naval Admiral in 1938. The Admiral had difficulty finding the Wellington style of boots he liked and as a favor John made him a pair. The boots became popular and he filled requests for them through World War II. General Patton even had a pair of the Jet Boots.
Frye Harness Boots


In the 1960s the
Frye Campus Boot
was re-introduced and became so popular and iconic that when the Smithsonian Institute was looking for items to represent America in the sixties a pair of Frye Campus Boots were among the chosen items.
Frye Campus Boots
These days Frye has expanded and offers so much more than boots. Now you can buy Frye heels, sandals, and oxford flats.
Frye Kara Trapunto T-Strap Pump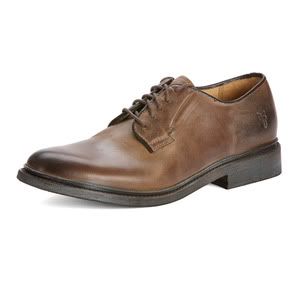 Frye James Oxford
You will be just as likely to see young hollywood starlets wearing Fryes as you will be seeing rough and tumble cowboys, servicemen, and brawny guys who get dirt under their nails(tm).
Rachel Bilson in Frye 12R Engineers
Reese Witherspoon in Frye Melissa Button Boots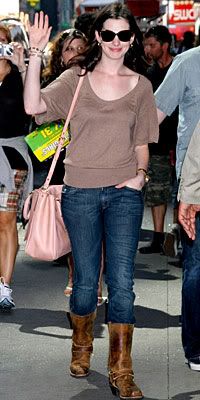 Anne Hathaway in Brown Frye Harness Boots
Who can choose one color? Anne in Black Frye Harness Boots
Stay tuned, tomorrow we talk about a passion for the sea, Sperry Top-Siders so break out your madras prints!