I am always reluctant to call menswear inspired styling a trend. I feel it's timeless and never really out of style. This fall menswear inspired clothing is still going strong. We already saw that Florsheim by Duckie Brown has a women's line of oxfords and brogues coming out this autumn and, of course, heeled loafers are still au courant.
When I was a sophomore in high school I bought my first two pairs of heels. They were for Mock Trial (what, it surprises you I was nerd?) so I could dress appropriately while in court. Both were cheap pairs from Payless (pre-designer collaboration days) but they lasted a surprisingly long time. They were both the "Highlights" store brand, a pair of black t-straps and a pair of brown loafers with a chunky high heel (90s).
I loved those loafers. They made me feel powerful and womanly. The great thing about the menswear inspired heels is that they often have a much thicker heel. This is great if you're just starting out in heels like I was back when I was 15.
These Prada Cherry Patent Leather Buckle Pumps are not new this season, but I have had them bookmarked in Firefox for well over a year, so it's time they get some blog love.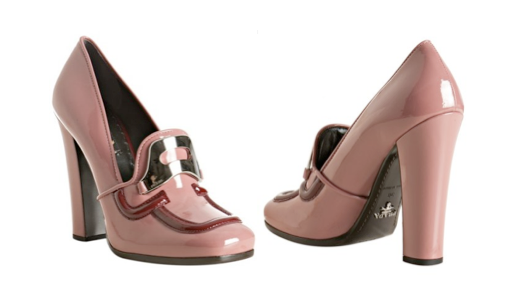 They also come in more muted colors but I'm partial to the pink myself.
Another brightly colored pair come from Anthropologie
this season.
And those Swedish Hasbeens you've been wearing all summer? Meet their autumn cousin.
But for those that require a slightly less colorful option, do not fret. You are covered.
4. Tod's Leather Loafer Pump
6. Fendi Taupe Leather Tassel Loafer Pump